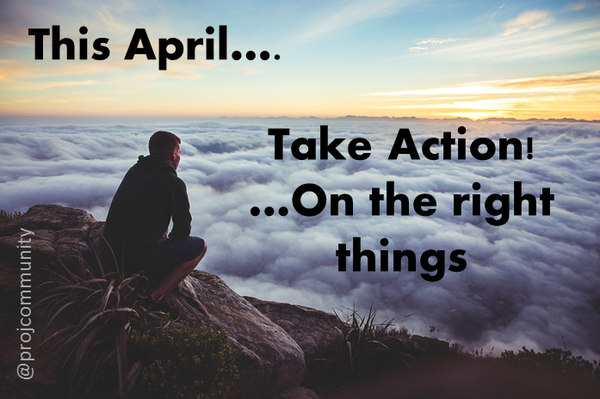 We are a quarter of the way through 2015 and I hope many of you are busy working towards your goals, whatever they may be.
Now is a great time to stop, take stock and have another look at what you really want to achieve either on the project or projects you are working on professionally or personally.
If you are one of the many people who feel like they aren't actually working towards any clear goals this is the perfect time to create some. How do you know you are on the right track if you don't know where you are going?
This month do an Objective Inspection. Are you working on the right things that are going to achieve the greatest outcomes and are they still the right outcomes?
Read
Here are a couple of things you might have missed out on in March:
Private clouds very public failure
5 risks that could impact any project
How to stop wasting precious time
How to manage remote direct reports
From the Archives
Waterfall project management – An overview
Watch
Check out our first video in the Set-Up For Success Series.
Stakeholders: Who they are and who they are not
This series is designed to be nice and short so you can watch it over a cup of coffee.
Just for a little bit of fun watch this funny video of a conference call, I am sure you can relate…
Tools
New Freebie
As promised we have finally added a new freebie to our collection.
You can now download yourself the 27 Point Set-Up for Success Project Checklist.
This is not your standard tick in the box theory checklist. It is designed to get you thinking about all the things you should be considering to make your project successful on top of the fundamentals they teach you in text books.
Tell us what you want and get a FREE toolkit
The Project Community was created so that we can help as many people as possible run more successful projects, meaning having projects with less risk, less cost and higher quality outcomes.
We would love you to tell us what it is you want to know more about and what you want more of from us. Please keep an eye on your inbox next week to complete our survey and when you are finished we will give you one of our fabulous Influencing Action toolkits.
Events and Training
Online Training
Are you looking for real world methods that are proven to work in practice that you can start applying as soon as you finish the session? Then join us for this 45 minute online training in April.
5 Practices That Create A Culture Of 'Action Taking' In Your Project Team
Seminar
Do you want to be more influential in your role?
Join Michelle Gibbings and Craig Stephens on Thursday 16th April (in Melbourne) to learn about the Program that increases your influence as a Change Practitioner. The Program will help you maximise your true value as a Change Practitioner by enhancing your validity, voice and vigour.
If you're interested in growing your capability and influence then come along to the Influential Change Practitioner Seminar. Click here for details.
A Message From Our Founder
So much happened in March, it really was March madness and the month disappeared before I could blink.
As you can see from our newsletter we really did make a lot happen in March, just like our motto asked. So what did we make happen in March?
So where did the motto come from for April? I think it is important that at least every quarter if not more often, you have a check in on where you are headed. Things can change so quickly and it is also easy to get caught up in too many things.
The end of a quarter is a good time to reflect on your current plan ahead: is it taking you towards your goals? Are your goals the right goals for your vision? Are you focusing on the actions that are directly linked to your goals? Or are you filling your days with stuff but never quite getting to where you need to be?
Take stock, regroup and then take action!
Louise Ledbrook
Enjoy the rest of your month
To your success!
Louise and the Project Community Team
Comments
Powered by Facebook Comments